SJ-10072-3535/5050
Digital sk6812 dc5v 3535/5050 smd led flexible strip

---
Features
1.Bendable Zig Zag LED Strip Light uses a specialty 5050 LED strip light with a unique zig-zag shape so that the strip can be used for both vertical turns, horizontal turns, and twisting applications. Use it to create spirals around objects, wrap around tight corners, arcs and right angles. This truly flexible lighting can be used for many applications such as backlighting, illuminating sign letters and complex shapes.
2. Tinny with 10mm PCB width and leds can folder, This is a fantastic product used for the place where need more thin PCB compare with the wider PCB.
3. RGB with IC addressable LED strip light combines red ,green , blue color LED chips with intelligent integrated circuit chips sk6812 to produce eye catching chasing effects. it has the ability to produce millions of colors, with the technology needed to achieve individual pixel control.
4. White PCB and black PCB optional .
5. It comes in 2.5 meters per reel with 3Pin female/male JST SM connector on both end and separated Power / Ground Wires .
6. Flexible PCB material . Each LED/Pixel can be cut , there is cut lines every 16.7mm.
7. 60LEDs/M . 5V low voltage inputted , don't over 6V , otherwise you will destroy the entire strip .
8. It is only Date Pin for signal transfer , no Clock Pin .
---
Parameter
P/N
Width/mm
LED Type
Pixel/m
Luminous
Angle
Voltage
Wattage/m
IP Rate
SJ-10072-3535/5050

W10/ 15mm

sk6812-smd3535/5050
72 Pixel/m
504
160°
DC5v

14.4

w

IP20/65
---
Dimension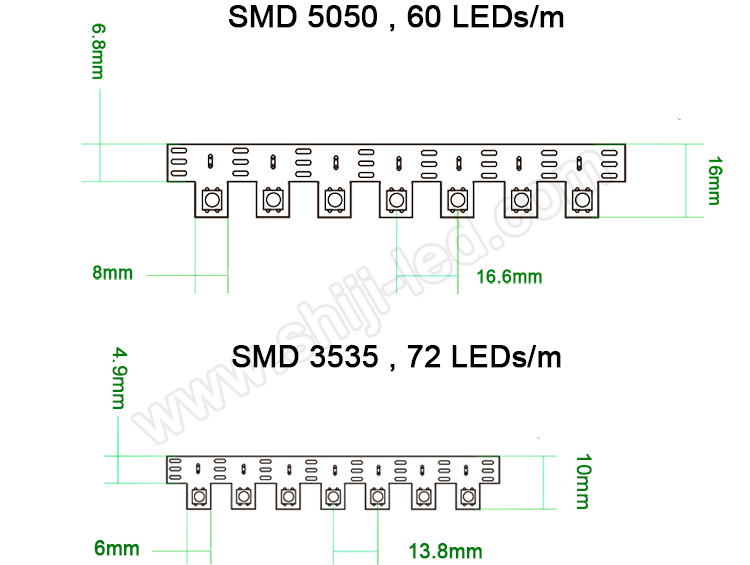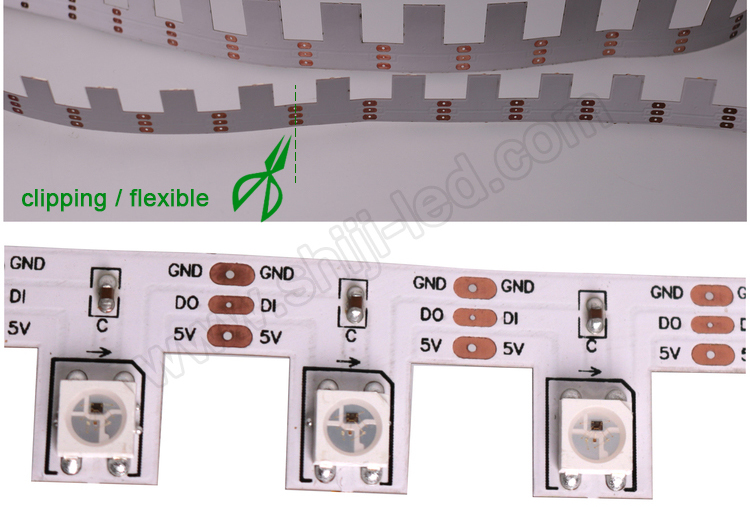 ---
Project case
back lights, cabinet lights, edge light, architectural lights for corridor, canopy, archway, lights for path
and contour marking; etc.They can be a good choice for lights for hotels, restaurants, night clubs, coffee / wine bars.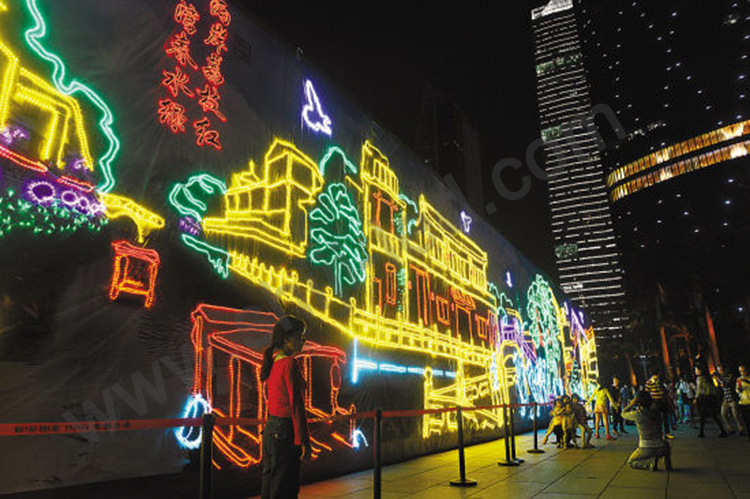 Video Show :