SJ-10060-WS2812B

---
Features
1.It is composed of two rows of WS2812B 5050 RGB LEDs

2.Support a variety of control systems, such as Madrix, Bluetooth controller, mobile APP, WIFI control, etc.

3. Each SMD 5050 RGB addressable LED is plugged into an WS2812B IC.

4. Each LED is independent and can be cut.

5. Each LED is addressable and controllable.

6. PCB color: white and black are available.

7. The recommended length is 5 meter per roll. The length can also be customized according to your needs.
---
Parameter
| | | | | | | | | |
| --- | --- | --- | --- | --- | --- | --- | --- | --- |
| P/N | Size/mm | LED Type | Pixel/m | Luminous | Angle | Voltage | Wattage/m | IP Rate |
| SJ-10060-WS2812B | 5000mm*10mm | WS2812B SMD5050 | 60 Pixel/m | 420LM | 160° | DC5V | 6-18W | IP20/65 |
---
Dimension

Controller System
1.Offline Controller:SJ-T-1000S,SJ-T-8000C for off-line working ,can control max 2048,8192 pixels
2.Online Controller:SJ-T-200K,300K for on-line working ,can controller max 4096,8192 pixels
3.Compatible with DMX,arduion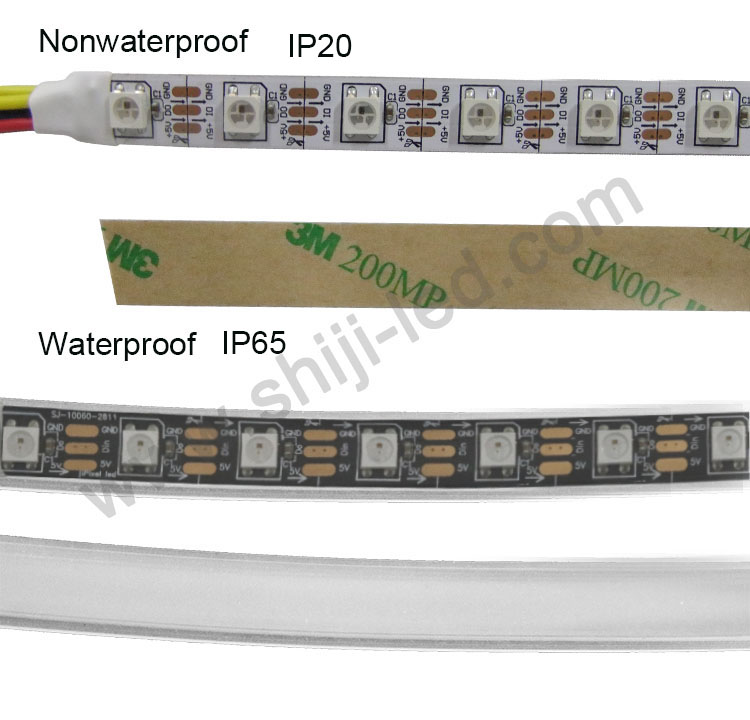 Project case
1.To creat Flexible LED display,LED curtain
2.Architectural displays , sides of buildings
3.Accent lighting locations
4.LED strip light shop displays
5.RVs and Motorhomes
6.outside in signs and under rooftops
7.Hotel lobbies
8.Patio and barbecue ares
9.Under cars and motorcycles
10.Under/above cabinet lighting